Recent Activities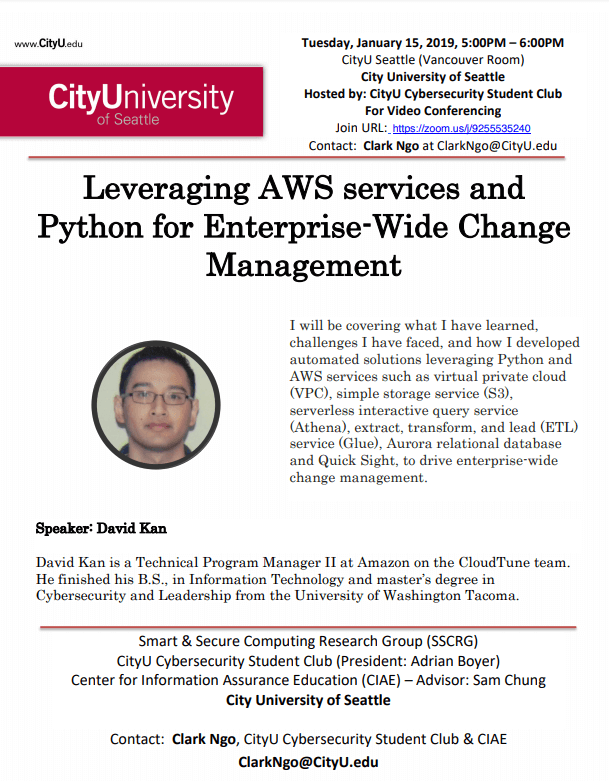 ---
CityU Cybersecurity Student Club Invited Talk
Making a Serverless Development Portfolio – In 7 Days
When: Tuesday, November 20, 2018, 5:00PM – 6:00PM
Where: CityU Seattle (San Luis Potosi Room)
For Video Conferencing Join URL: https://zoom.us/j/9255535240
Contact: Clark Ngo at ClarkNgo@CityU.edu
---
CityU Cybersecurity Student Club Invited Talk
Download: 2018-10-23 Invited Talk – Deceptor App
AppEsteem PUA (Potentially Unwanted Applications)
Who: Neil Comisioneru, a Program Manager Intern at AppEsteem. He is currently finishing his Master of Business Administration with Technology Emphasis at the City University of Seattle.
When: Tuesday, 5-6pm PST, October 23, 2018
Where: San Luis Potosi Room
Video conference: https://zoom.us/j/9255535240

---
Sushi & Cybersecurity (Live Show)
When: Tuesday, Oct. 23, 2018, 12-1pm (new time)
Learn How to Make (and Eat) Great Sushi and Learn Helpful Computer Safety Tips!
Starring: Clark Jason Ngo, Sushi Chef (CityU Student), Cybersecurity Club, Guest Speakers (CityU Students)

---
CAE Forum – Dr. Simon Cleveland from City University of Seattle
National Centers of Academic Excellence
Cybercrime Post-incident Leadership Model (1:10-1:50pm ET)
CAE-Forum-Cleveland_17Oct_flyer.pdf
Mark your calendar and come to join us for CAE Forum! CAE Forum is a live, real-time, online, academic forum where members of the CAE community give non-technical presentations on topics of value to the CAE community. CAE Forum is about sharing your ideas, knowledge, and expertise to empower and strengthen our community. It's that simple. CAE Forum presentations are normally held on the third Wednesday of each month during the Fall and Spring semesters.
Time: 1:10-1:50pm ET
Location: https://caecommunity.zoom.us/my/caeforum. Just log in as "Guest" and enter your name. No password required.
Title: Cybercrime Post-incident Leadership Model
Audience: Students, Professors, Government
Presenter: Dr. Simon Cleveland from City University of Seattle
Topic: Studies propose a variety of prescriptive practices to combat cybercrimes, there is scant research to address how organizational leaders should minimize the impact of cybercrimes on their companies and the community after they have occurred. This presentation addresses the steps leaders should take in the aftermath of cybercrimes and proposes a four-stage model consisting of best practices to guide leaders in preparing, responding, and recovering from a digital or cybersecurity attack.
A recording of the live presentation will be available within 48 hours of the presentation at: CAE Forum Resources. Contact us at: caeforum@caecommunity.org.